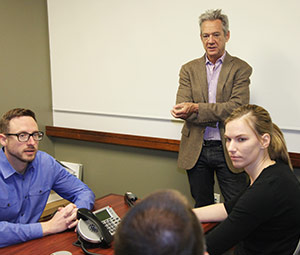 Advocating for Owners. Integrating Vendors. Improving Process and Profit.
An owner's representative is a trusted advisor within the built environment who acts as the advocate for an owner who may lack internal expertise in the design/construction sector and is embarking on a meaningful new design/build project.
The role of the owner's representative is to maintain a horizontal relationship between the owner and the Architect, Engineer, Contractor and other vendors. This helps insure a smooth flow of information and mitigate unnecessary confusion and wasted efforts/fees.
"PrayWorks was an ideal representative for McCarthy, primarily due to Dave Pray's deep understanding of the building design process and his passion to embrace change that benefits all the organizations he's collaborating with." – Ray Sedey, McCarthy Building Companies
An owner's representative acts as a central point of contact and as a project manager to coordinate the designers and contractors involved in a complex building project.
With over 40 years of diverse building experience, PrayWorks is uniquely positioned to deliver owner's representation services to enhance large or complex building projects.
The benefits of owner's representation services include:
Expertise – Augmentation of your internal team's building and design expertise, including industry-specific experience
Better Terms – Better able to negotiate fees with construction, architectural and other building-related services
Best Practices – Insight into evolving trends and best practices that could save time and money and improve quality outcomes
Resource Network – Access to the best individuals and firms when building your project team