MVB Keeps Shareholders and End Users Happy
MVB – "your most valuable bank" – has showcased an impressive record of customer service and growth in the region by embracing innovation, technology and a commitment to security.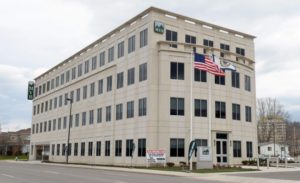 After establishing a strong presence primarily in Northern West Virginia, MVB made the bold move into West Virginia's capital city of Charleston. This strategic move involved building a new showcase facility in a highly visible part of downtown Charleston, so Larry Mazza, President & Chief Executive Officer of MVB, wasn't about to take any chances on the $6 million investment.
"We're accountable to our shareholders," said Larry. "We couldn't afford to not be on time and on budget with this project." Towards that goal, Larry turned to Dave Pray and PrayWorks to serve as MVB's owner's representative.
"I've known Dave and his deep level of building experience for 22 years," said Larry. "He represented us in this role extremely well. Dave is firm and fair with everyone, and he gets things done."
"Dave's communication and availability are just amazing," said Larry. "He's a maestro."
According to Larry, Dave added strategic value throughout the entire process, from site selection, to vendor selection, to advanced delivery methodologies that aligned the entire team. "Dave is about execution and excellent planning. He's very process oriented and ensures the owner's needs are a priority. You want Dave on your side, especially when dealing with a lot of vendors."
MVB was not only looking for an on-time, on-budget result; it was looking for a marquee structure in a marquee location in their new market at 400 Washington Street, East. "This new building had to be very functional and very attractive to other clients, because we're leasing a good deal of the space. Dave added so many insights and ideas along the way."
Examples of areas where PrayWorks added value in collaboration with the project's vendors include:
A strong focus on end-user experience, including how parking was designed so closely to the doors and how an on-site workout facility was thought through.
Attention to aesthetic detail, such as interior design, the unique "skin" on the outside of the building and how the MVB signs were attached to the facility in a tasteful and "cool" manner.
Perhaps best of all, Dave Pray ensured there were no surprises during this commercial building project. "Dave's communication and availability are just amazing," said Larry. "He's a maestro."