As the founder of Pray Construction and a leader in the construction industry for over 40 years, Dave Pray has developed deep expertise and even deeper relationships with builders.
McCarthy Building Companies Brings the Brooklyn Bowl Las Vegas to Life


On ownership's behalf, Dave contracted with McCarthy Building Companies on the Brooklyn Bowl Las Vegas, a live music venue, bowling alley, and restaurant that was completed in early 2014.
Ray Sedey, McCarthy's Executive Vice President, said that Dave's leadership was the "glue" that held together all the vendors and partners involved in the project.
What stood out about Dave? According to Sedey:
Immense industry experience
Deep understanding of the building design process
Excellent management of communication across diverse, complex teams
Direct, clear, collaborative management style
Passion to embrace change that brings benefit to clients
McCarthy is excited about Dave's thought leadership in the realm of Lean Construction and Integrated Project Delivery (IPD). The application of these leading-edge industry trends will enable McCarthy to build more venues faster, at a lower cost and with higher quality.
Dave is currently working with McCarthy, one of the leading builders in the nation, on the new Brooklyn Bowl project in Chicago where Lean Construction and IPD principles are being applied.
Pray Construction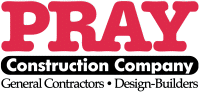 Pray Construction, a well-respected regional construction and general contracting firm, is currently working with PrayWorks on court-ordered interior and exterior modifications of an 84-unit condo complex in Morgantown, West Virginia. Dave Pray has been appointed as a Special Master of the Court in this matter, and he represents the interests of the Court in the complex that is being remodeled. Pray Construction was hired as a contractor to carry out the modifications.
Dave brought his expertise in Lean Construction and the Last Planner system to the project. According to Pam Smith, a project manager with Pray Construction, the use of the Last Planner system has been an "eye-opening" innovation in scheduling a construction project for maximum efficiency and clean hand-offs.
In the Last Planner model, all stakeholders involved in a job have input in the project schedule, from project managers to subcontractors to trade partners. After working collaboratively in the scheduling process, team members are better able to hold each other accountable to deadlines and deliverables.
"The Last Planner is definitely saving us time, and we expect it will reduce costs as well," said Pam.
Pray Construction has thoroughly enjoyed working with Dave on the University Commons project. What makes him stand out?
His 40+ years of deep industry knowledge
His history of bringing innovative industry trends to the mid-Atlantic market
His commitment to bringing excellence to a project, from beginning to end
"Dave has a broader perspective than many people in the construction and development industry," Pam Smith said. "He is extremely knowledgeable and successful, and he is always looking for new ways to make things more efficient."