West Virginia's First Lean Construction Project Helps Auto Dealer Get Lean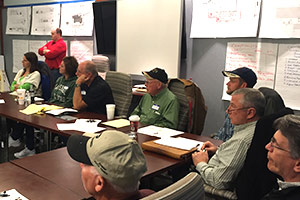 PrayWorks is currently working with, Mountaineer Automotive, a Ford Lincoln dealership located in Beckley, West Virginia, on a comprehensive redevelopment of the dealership's show rooms and facilities.
Donnie Holcomb, President of Mountaineer Automotive, selected Dave Pray as the owner's representative for the project on the basis of his extensive industry knowledge, construction background, and expertise in Lean Construction
"As an owner, the Lean process that Dave Pray is able to deliver has been less stressful in regards to working with contractors, subcontractors, and professionals; and in developing the plan and project objectives," said Donnie Holcomb, President, Mountaineer Automotive.
Lean Construction is a leading-edge construction methodology that breaks down traditional silos between builders, contractors, and trade partners. All parties are brought on board early in the project and work together to accomplish integrated, efficient planning and execution.
Mountaineer Automotive is the first business of its kind in West Virginia to apply Lean principles to a construction project.
Design and construction partners have also expressed appreciation for the process. Cathy Underwood, President, Branch & Associates (general contractors for the Mountaineer Automotive Project): "The opportunity to drive waste out of the process and become more efficient, hands on and collaborative is a very attractive proposition, compared to traditional methods."
John Oney, President, Architectural Alliance, is the lead designer for the Mountaineer Automotive project. "My experience so far has been very good. Lean Construction takes team relationships between designers, contractors, trade partners to a next level, where you get everyone involved. It's very exciting."
This project is believed to be the first of its kind in West Virginia. Dave Pray and the Mountaineer Automotive Team are certain that it won't be the last.